Simply Budgets Version 2.0 Upgrade
'GOOD' has become 'AMAZING'!
After 18 months of intensive work Simply Budgets Version 2 was launched in May 2011. This was the culmination of thousands of hours of research, brainstorming, listening to our customers and looking at what was good in Version 1 and asking the question how can we maintain or improve on that while improving the things that were not so good.
After much hard work, this new version is now receiving very positive feedback from our happy customers.
This web-page is intended for people who are current users of Simply Budgets V1 and highlights the changes and the new features that are additional to all the existing features.
In Excess of 40 Improvements or New Features
New Easier Menu
Even your Grandma could navigate this one!
Make full use of screen space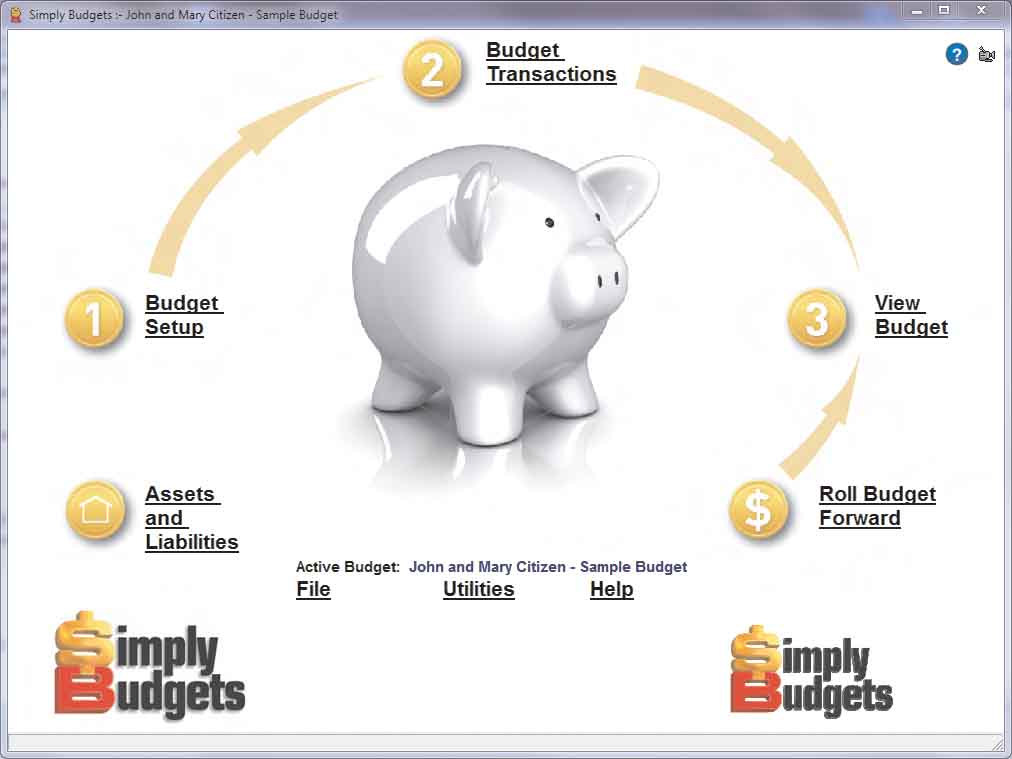 Simplified File Management
Create and Delete budget files as you please.
New 'Asset & Liability Management'
Lets you keep in touch with the progress you are making on your wealth journey
Asset list helps with insurance valuation
Asset ID and Photo allows you to keep detailed records of valuables in one place for insurance purposes.
Net Worth report allows you to monitor your personal 'Balance Sheet'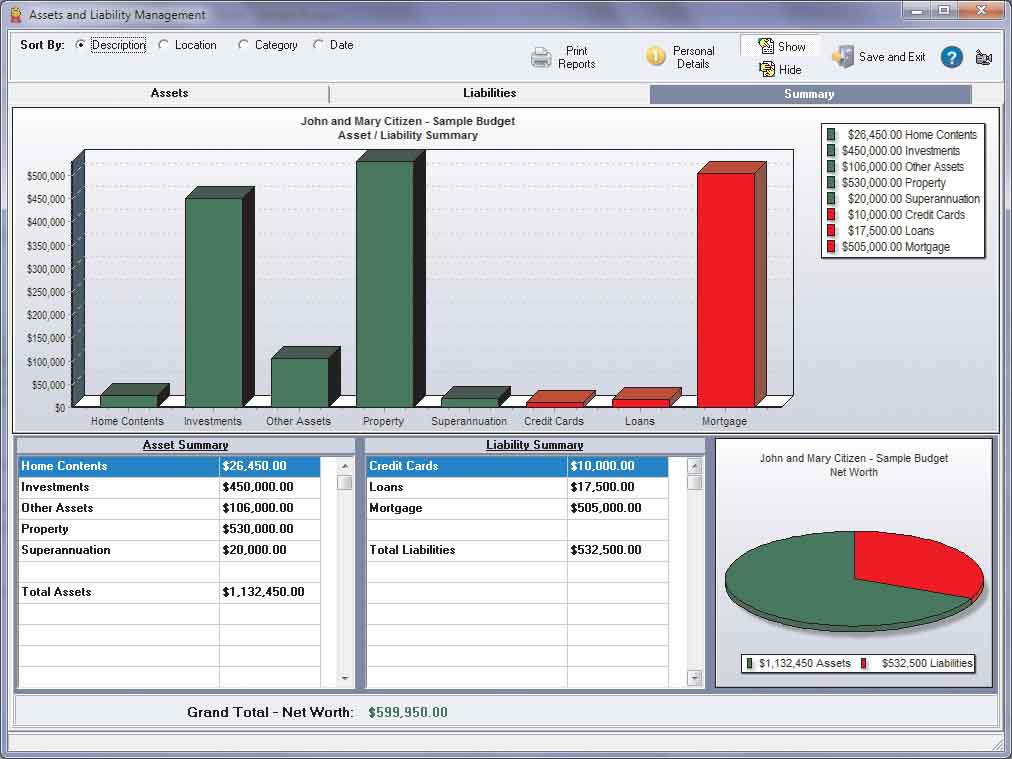 Improved Account management
Regular, Long Term and Savings can now be assigned an actual bank account
Include as many accounts as you like.
Multiple Credit Card Accounts are now available.
Simplified Credit Card set-up
Set Savings Account targets
Interest calculations now included in Savings Accounts.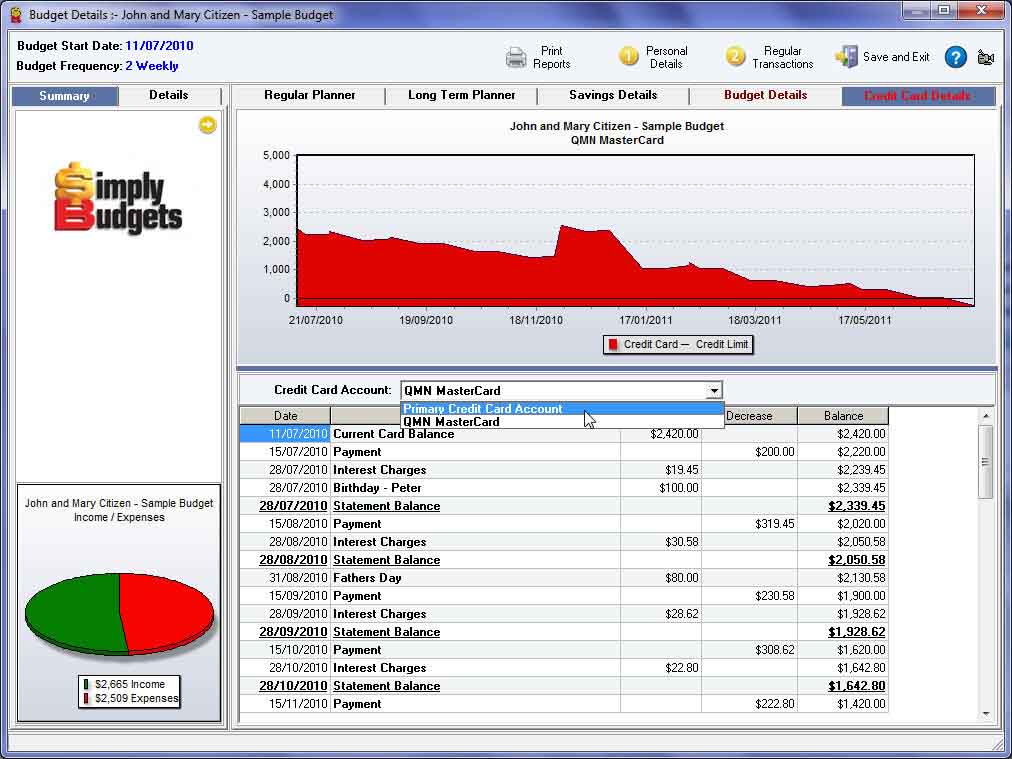 Improved Income Management
All Incomes now listed in one central location
Use of Additional Income can now be varied at the users discretion

Simply Budgets Income Centre View
Income Centre
Improvements to Long-Term Expenses List
List 'Asset Ages' as years or months as required
NEW 'Irregular Transactions' Feature
Create a series of transaction dates for income or expense items that do not necessarily occur on a strict repeating cycle. e.g. If you do not get paid during holidays you can now remove those dates from your income sequence
Create a series of transactions where the amount varies rather than always appearing as the same value. e.g. your Electricity Bill might be higher in Winter and lower in Summer. Now you have the flexibility to enter different amounts for each scheduled occurrence.
Improved Budget Layout & Logic
Dedicated tab for planning Regular Expense balances
Your 'Ideal Budget' is always graphed so you can compare it with 'Your Budget'
More logical layout of budget planning tools
Account Register now displays columns for Regular, Long Term & Savings depending on account choices and shows totals accordingly
Budget Graph now displays lines for Regular, Long Term & Savings depending on account choices
New Budget Summary/Budget Details always in view – Gives overview of budget status at a glance (LHS below)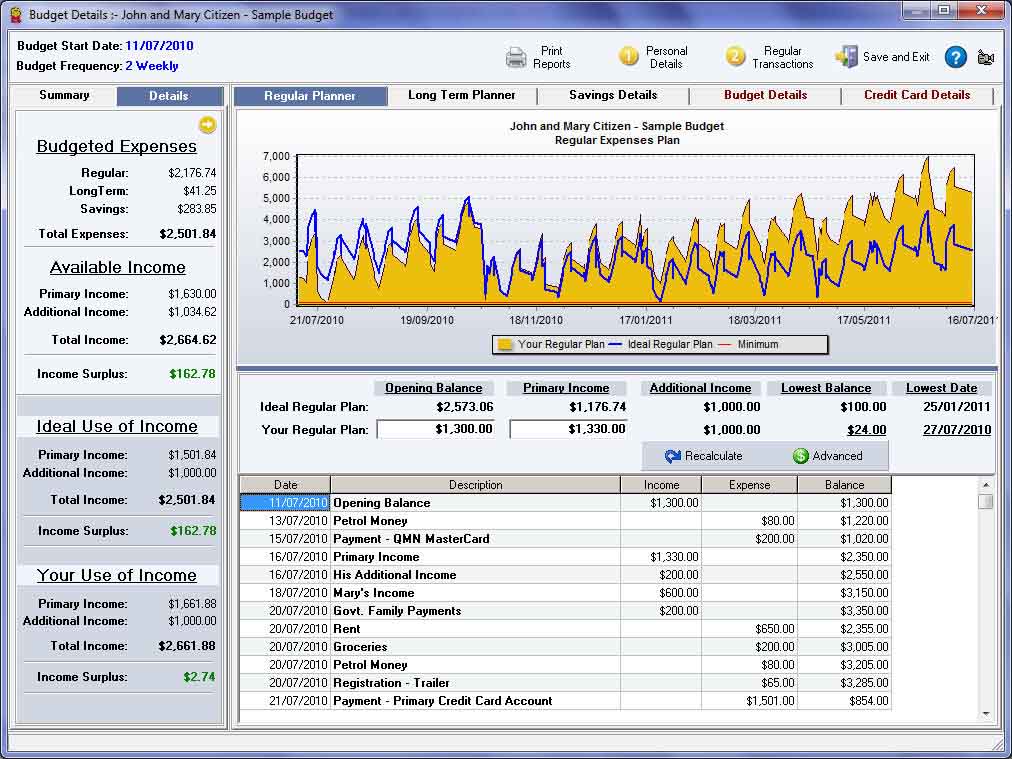 Simply Budgets Regular Expenses PlannerRegular Expenses Planner
Vastly Improved Budget Reports
All reports now higher resolution, clearer and easier to read
New; Export reports as CSV (spreadsheet) or PDF
New '12 Month CashFlow' report
New 'Cash Withdrawal' report shows how much cash you need to withdraw each week.
New; Payments Due Report shows all upcoming bills
Six Transactions to a day on Budget Calendars rather than 5 in previous Versions.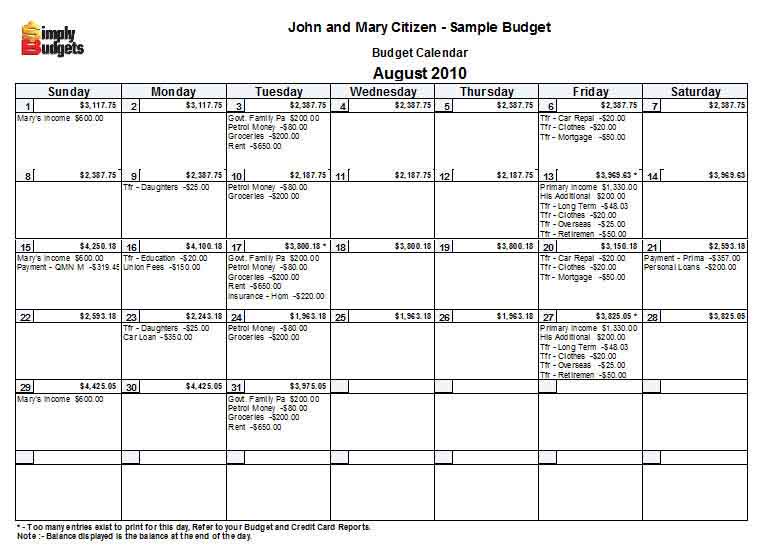 Budget Calendar
New Additional Features on Loan Calculator
Compare standard loan payments with 'Interest Only' payments.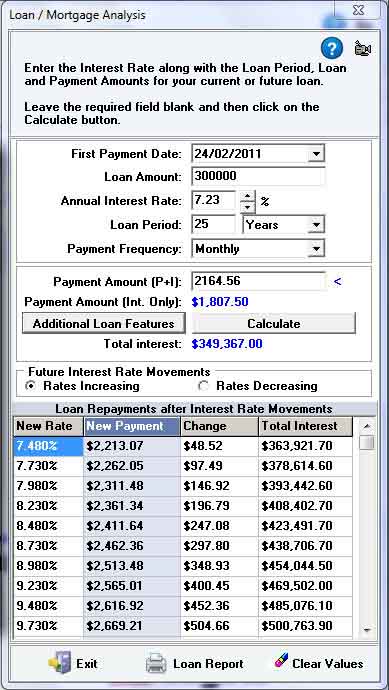 Make projections based on use of Mortgage Offset Account
See the impact of making regular additional payments
Simply Budgets Loan Calculator View
Loan Calculator
Improved Software Support
Help Video Tutorials and Documents available right where you need it on every screen.
Simplified Budget Roll-Over
Now 3 simple steps
Savings Withdrawals Now Supported
Enter Withdrawals from Savings rather than rolling your budget forward will save you time and make managing savings account unpredictability much easier.
Easy Installation and Portable Operation
Can be installed on any Windows compatible computer in common use
Can be installed onto a Memory Stick for portable operation – simply plug into any remote computer and away you go. Take your budget with you!
Simplified Password Protection system
Better Licensing System
Allows you to install on any two computers of your choice and migrate as required; also protects your investment from software piracy.
Upgrade Available Now
Available initially as a "soft copy delivery only' you can order V2.0 for a reduced 'Upgrade' price if you have a valid Registration Number from your earlier software purchase.
IMPORTANT NOTES
You will need to enter the first 7 characters from your Version 1 serial number as the coupon code when you place your order via the secure Shopping Cart to purchase at the upgrade price.
Version 2.0 does not replace earlier versions of Simply Budgets but installs as a separate stand-alone application instead. You can still run V1 if you desire.
Simply Budgets V2.0 Digital Upgrade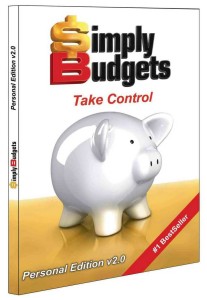 V2.0 Upgrade- Digital Delivery
Download Simply Budgets V2. and experience the powerful new features within minutes! Your order will be processed and an e-mail will be sent containing your product download link.
Upgrade Price: $84.95
Please Note:- The full price will be displayed until you enter the first 7 characters from your Simply budgets Version 1 Serial Number as the discount Coupon Code.
Secure Online Order:- Click Here
V2.0 Upgrade- Hard Copy – Postal Delivery
Have Simply Budgets V2 posted to your door. Your order will be processed and a pack will be posted to you. You will also receive a containing your product download link via e-mail.
Upgrade Price: $99.95
N.B. – The full price will be displayed until you enter the first 7 characters from your Simply Budgets Version 1 Serial Number as the discount Coupon Code.
Secure Online Order:- Click Here
Note,
If you want to transfer your current budget to this new version of Simply Budgets you MUST create a backup copy in the older version and then restore it to V2.0.
If you have Version 1-0 or 1-1 you need to install the Free Upgrade to Version 1-3 before creating your backup file.
Not a Previous Customer – Click Here
APPLE MAC:- Simply Budgets is not directly compatible with Apple Mac computers but will run successfully on current machines loaded with Windows or on older machines using Virtual PC, Crossover, Bootcamp or similar emulation software. You will need a Windows based Web-Browser and Windows based Adobe Reader installed on your Mac in order to register Simply Budgets and view support material. Check with your Apple Retailer prior to purchasing Simply Budgets.